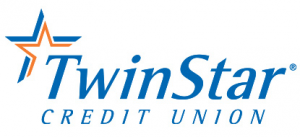 This is a story of amazing generosity and community support.  Last summer, Centralia Amateur Radio Emergency Service took possession of a blue Chevrolet box van which the police department asked if we could put it to good use.  A couple years earlier, the team had taken a exact twin of this van and turned it into a emergency communications van.  While that restoration project was completed by our volunteers,  we scrimped and saved for every penny trying to make it happen.  When this second van came to us, we knew we simple couldn't ask our volunteers for monetary support once again so we went looking for possible donations.
Assistant Emergency Coordinator Lyle Olmsted approached his bank manager, TwinStar's Jon Brein about a small donation.  Jon said that TwinStar routinely helped provide support for the community through donations of this kind… and then he went to work.  When we met with Jon again in the early fall, he had a few more questions about our project and about our volunteer organization and its mission.  In the meantime, our ARES team had also been busy.  We logged every piece of equipment we had previously installed into our first van and then, based on the current cost of each item, determined the total amount that would be required to complete the project.  When this list and total was presented to Jon, we were told he was going to try to fund the entire project.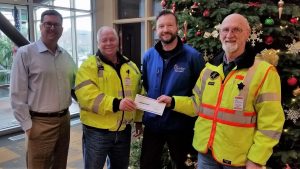 Within weeks, we were advised that TwinStar's corporate offices were indeed willing to fund the entire project.  Just before Christmas, AEC Lyle Olmsted and EC Bob Willey were invited to TwinStar's corporate offices in Lacey where Chief Marketing Officer Matt Devlin and Centralia Branch Manager Jon Brein presented us with a check for $6,350.00.
Where do you begin to thank the people who provide this kind of support and generosity for a small town Amateur Radio Emergency Service team?  Their kindness and help made this entire donation process easy and fun.  What a great Christmas gift we, and the entire community, have been given.
Centralia's Amateur Radio Emergency Service team of volunteers provides over 4,000 hours each year preparing to support our serviced agencies, the City of Centralia, the Centralia Police Department and the Riverside Fire Authority.  We train twice each month and conduct exercises to be ready for the worst.  Be it a railroad train derailment or a catastrophic earthquake, we train to provide assistance in any way possible.  We are very grateful that TwinStar Credit Union stepped up to support our mission and if you live in our community or our response area, you should be thankful as well.
Nice job, TwinStar Credit Union!