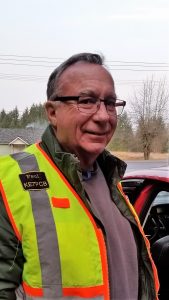 Centralia Amateur Radio Emergency Service team member Paul Barwick, KE7PCB, successfully passed both his General Class and Extra Class amateur radio license test this weekend.  Paul has been a team member since April of this year becoming interested in ARES after listening to a presentation on volunteers and amateur radio during a Citizens Academy program at the Centralia Police Department.
Since April, Paul has become involved in every part of our ARES team as an important part of each training exercise and team project.  This is no easy task.  This summer alone, included special events such as Field Day, Summerfest, National Night Out Against Crime, and the Winterfest celebration.  Paul also actively participated in our multi-layered train derailment & explosion exercise, the helicopter landing training with Riverside Fire Authority and Airlift Northwest, the 2017 Simulated Emergency Test drill and the Ham Radio Lab
Paul has also been a prime mover on our latest communications vehicle project donating many, many hours polishing the exterior of the van and helping with its internal construction.  All of this and he is quietly studying for his general and extra class exams.
We congratulate Paul on his licensing success and welcome him to the world of