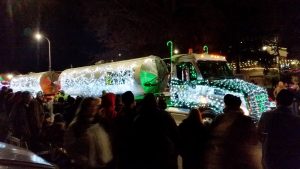 Centralia's "Winterfest" celebration this year drew the largest number of participants and viewers ever and much of the reason everything went smoothly is due to an outstanding team of Amateur Radio Emergency Service volunteers.  This year's Lighted Tractor Parade, with over 85 vehicles, floats and large trucks was much bigger than past years with every entrant literally covered with Christmas lights from end to end.  Since the parade is held in the evening, the cold and dark atmosphere seems to make the show even more spectacular.
Behind the scenes, however, it takes teamwork and dedicated volunteers to keep this event safe.  From police department reserve officers to our own ARES team members, volunteers made a difference.  This year saw the largest vehicles ever negotiating their way through five different 90 degree turns on narrow city streets. All made it successfully through the parade route with the help of the ARES team members but there were tense moments around some very tight turns.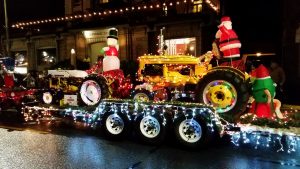 Other than helping trucks negotiate the route, our ARES volunteers were tasked with keeping swarms of kids safe and far enough back from the large vehicles to prevent disaster.  With the huge crowds this year, this was a very difficult job.  Candy thrown from the parade floats draws children like a magnet.  Amid all this is the every present danger of a medical emergency happening among the thousands of people along the parade route.  While nothing like that occurred this year, volunteers must be ready to respond immediately knowing how to call for assistance, and giving accurate information and directions for the response.
While our team was not an active part of the huge fireworks display that was Winterfest this year, it contributed to the large crowd numbers helping to attract and estimated 10,000 people to the community.  Bundled in heavy coats, long underwear and thick socks, the ARES volunteers still managed to make this event highly successful and safe.  Their ability to perform professionally under these conditions continues to amaze me.
YOU really, really do make the difference!  Merry Christmas and thank you for all you do as volunteers!