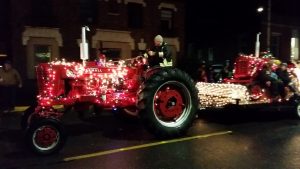 The holiday season is upon us and it is time for celebration.  On Saturday, December 9th, Centralia will hold is annual Lighted Tractor Parade from 6pm – 8pm in the downtown area.  Following the parade, Winterfest activities move out to the Borst Park area as Centralia puts on the largest fireworks display ever held in Lewis County.
The Lighted Tractor Parade has become a unique and wonderful downtown event, growing in size each year.  While there are plenty of lighted tractors in the parade, they are joined by large trucks, floats, military vehicles and fire trucks to create a truly different and fun parade.  The downtown area is lighted for Christmas and every storefront is full of holiday cheer.  Just like the Summerfest parade, children and their parents gather to scoop in the candy thrown to the crowd during the parade.  Winding through the ten block main downtown area, the parade takes a little over an hour from start to finish and occurs rain or not.  Last year's parade was accompanied by heavy rain and even some sleet but it didn't seem to make much difference to those attending.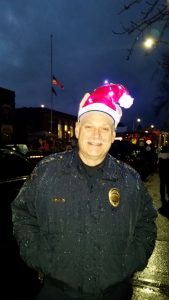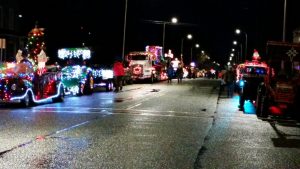 Centralia Amateur Radio Emergency Service volunteers will be on hand to assist beginning with the delivery and set up of the police department's command van and our own ARES communication vehicle, Comm II.  Stationed at the beginning of the parade, the PD directs their officers from their vehicle while we keep communications open with our ARES volunteers along the route from Comm II.  ARES volunteers, stationed at intersections along the parade route,  assist the larger parade vehicles negotiate four tight 90 degree corners and keep a watchful eye on the thousands of kids who are constantly stepping into the roadway to retrieve candy.  Volunteers also keep an eye on the crowd in case of a medical emergency or some other event which might require an aid car or police presence.
This year, the Winterfest activities have expanded to include the largest fireworks display ever held in Lewis County just after the parade.  Located in the southwest corner of Borst Park, near the athletic fields behind the football stadium, this fireworks display should wake the dead and delight the kids no end.  The fireworks begin at 8:30 pm and last until the last one goes "boom".
December is truly a joyous season.  With plenty to do in the twin cities during the month, be sure you don't miss the Lighted Tractor Parade and fireworks display on Saturday evening, December 9th.
See you there!