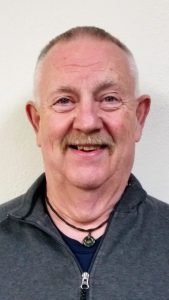 We extend a warm welcome to our newest Centralia ARES team member, Skip Kingman, K1HEK.  Skip participated in our Simulated Emergency Test exercise back in October as part of the Washington State Guard contingent.  At that time, Skip helped in the exercise's Emergency Operations Center helping to set up a communications link with several outside agencies.  Shortly thereafter, he joined our Amateur Radio Emergency Service team as well.
Skip tells us he has been interested in radio most of his life, building his first crystal set at the age of nine and receiving his first short wave radio at ten.  By age thirteen, he could send and copy Morse code at about  15 words per minute.  After high school, he joined the military and studied radio and radio wave theory and practicality, using this knowledge as a radio communications intelligence analyst in Europe, Asia and Vietnam.
After leaving the military, Skip became a police officer for the next eleven years departing as a division commander.  Most of his professional life, however, was spent in emergency medical services as an NREMT-paramedic, a certified firefighter-paramedic and/or a certified emergency nurse.  After 911, he became involved in hospital disaster preparedness and was involved in setting up amateur radio stations in three hospitals.  It was about that time that Skip obtained his ham radio license and now holds an Amateur Extra class license.
Skip has been part of the Washington State Guard EMCOMM team for over three years and is also part of the EOC RACES team staying involved in amateur , federal and military net operations in the office and in the field with voice and digital communications..
Welcome to Skip.  We will be glad to put his experience to work.