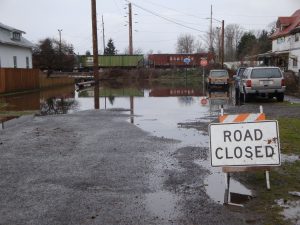 Fall is here and that means we've entered flood season.  For those who have deployed during previous floods in our community, the information below should serve as a reminder.  For our newer members, the information will hopefully help you prepare for a possible ARES activation.
Each year, the Centralia / Lewis County area is impacted by floods or "near miss" flood situations. A "near miss" situation simply means our area came so close to a flood situation, another 12 or 24 hours of rain would have placed us into a flood.  Both the Chehalis River and the Skookumchuck River pass through Centralia.  Heavy rains in the mountains or a snow melt can trigger a flood on the Chehalis and the Skookumchuck at the same time.  Smaller creeks and streams such as Salzer Creek and China Creek – which runs directly through the middle of the downtown area – can easily create localized flooding.
Major flooding, as occurred in the devastating 2007 flood season, can impact a wide area of our county even cutting Interstate 5 and shutting down that transportation system for days at a time.  Less major flooding creates localized situations that often close city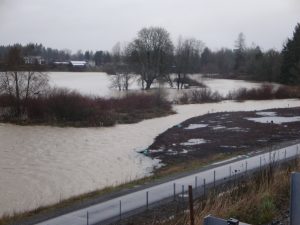 streets, local businesses and can cause wide spread damage to homes.
Centralia ARES deploys in a variety of ways to area flooding.  We may be asked to monitor sandbag stations or road barriers.  Most often, however, we are tasked with conducting windshield surveys designed to keep our Emergency Operations Center fully informed on flood conditions in neighborhoods throughout the community.  As always, we support the EOC by manning the amateur radio station inside the facility.
As a deployment develops, you will be notified and asked to monitor a designated frequency where you will receive an up to date situation report.  At that time you will also be asked your availability for deployment.  Some volunteers may be given an immediate assignment while others may be asked to check in at regular intervals.
Upon deployment, you will contact Net Control for information, directions or assignment.  Net Control also acts as your safety net so remain in contact at all times.  Do not leave your assignment or go home without notifying Net Control.
So how cay you prepare for flood deployment?  Here are a few tips:
Prepare yourself and your family before the deployment call comes.  Make sure your family and your home will be safe when you deploy.  Be sure they can call or text you and assure them of your support, if needed.  Know if your home is located in a flood plain and know where to evacuate if necessary.
Maintain your amateur radio equipment in a state of readiness.  Keep the equipment handy and all batteries charged.  Make sure you have all the necessary frequencies programmed in your radios.  You should, where possible, have a mobile radio in your vehicle and at least one, preferably two HTs available.
Keep your vehicle full of fuel.  Carry water, snacks and a winter weather go-bag in the car at all times.
If possible, have a complete set of rain gear.  Floods are caused by rain and you may well be out in the weather.  Include a rain proof hat, gloves and some sort of rain boots.  You will not be asked to wade into deep water but you may need to walk through a few inches to reach your vehicle or a building.
Most flood deployments are short term – usually 4 hours or so – until the relief team arrives to take over but be prepared for up to 12 hours of deployment by keeping water, snacks and comfort items in your vehicle.
Food is usually provided to flood volunteers but be prepared with your own food supply should that system fail or be disrupted.
Carry a flood go-bag on each deployment.  This should include – at a minimum – amateur radios, spare battery packs and a car charging system for your HTs; at least two sources of light such as a flashlight or headlamp; chemical hand warmers; small change to buy snacks & incidentals as needed; cell phone car charging system; programming guides for all radios; water, snacks and any medication required; first aid kit; pens, markers & notebooks – preferably rain proof; your field resource manual and a local map; a Leatherman type multipurpose tool; personal toiletry items as desired; a copy of your amateur radio license and personal ID; your ARES identification card, vest and door ID shields.
Remember – personal preparedness as an Amateur Radio Emergency Service volunteer is your responsibility.  If you are not sufficiently prepared and therefore require assistance you become part of the problem and not part of the solution.
Your safety, as well, is your responsibility.  Do not drive in deep or even moderately deep water.  When unsure, go around or turn back.  Do not place yourself in danger for any reason.  If the situation appears unsafe, leave the area and notify Net Control.
Know your callout procedures and do not self deploy.  No flood situation is enhanced by having additional people out driving around just to see what a flood looks like.