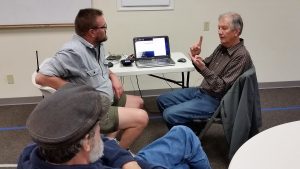 Centralia ARES held our first "Ham Radio Lab" Monday evening at the Mt. View Baptist Church.  Our host, Pastor Bill Knepper, N7GWK, had the coffee on and the doors open when we began arriving at 6:30 pm.  Ham Radio Lab was Bill's idea and was designed around more of a social function than an actual meeting or training exercise.  He envisioned bringing hams together simply to share information, mentor those who needed assistance and practice the amateur radio hobby.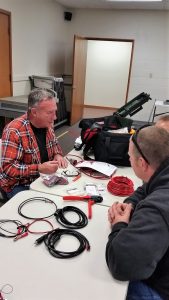 Fifteen team members and a couple of guests made up our first get-together and included a fairly even smattering of newer hams and experienced operators which is exactly what was hoped for.  For some of the newer hams, much of the conversation centered around which VHF antenna could be used for their shack at home and how to install it.  Paul, KE7PCB, brought his Anderson Powerpole supplies and gave anyone who wanted an opportunity to learn how to attach connectors.  While this is not difficult to learn, practice always makes the job easier and Paul is a gentle teacher.
Digital communications seemed to be one of the big draws with five or six stations set up around the room, some working out a few bugs while other operators took the opportunity to explain how the systems functioned.  Comm II was placed outside the building and used for peer to peer practice.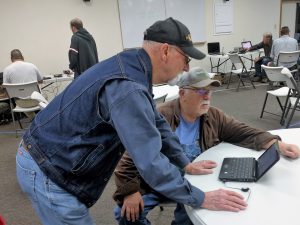 As with any group of amateur radio enthusiasts the two hours given over to our first lab flew by quickly.  By the end of the evening, when equipment was packed away, smiles all around told the true story.  Hams enjoy being with and learning from other hams.  While this was our first Ham Radio Lab, it certainly won't be our last.  Thanks to Pastor Bill for opening his church and making this event happen.