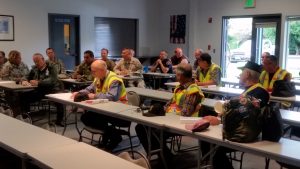 Our October 16th Amateur Radio Emergency Service meeting will once again be held at the Riverside Fire Authority training room at Station #2, 1818 Harrison Avenue beginning at 6:30 pm.
With our 2017 Simulated Emergency Test exercise completed and our recent communications outage to the phones in the county and the 911 system, we will take some time to discuss both events.  Additionally, we'll have a presentation from Lyle Olmsted, KB7PI on the changes that have happened in amateur radio over his extraordinary 60+ years as a ham.  Additionally, now that our digital communications survey has been completed, Bill Knepper, N7GWK, will talk about the final tally and some training ideas for the future.
As we do each fall prior to the flood season, we will take time to go over our team call out and deployment procedures and work through preparedness ideas for possible winter weather activations.  Finally, with a nod to our newest ARES team members, we will set up a display of VHF antennas – both homemade & factory built – and discuss their merits.
It is going to be a busy evening.  Please bring your go-bags and field resource manuals.  Be ready to open your go bag and display its contents to our new team members.  If your go-bag is picked for display purposes, we've got a prize for you!