Last Saturday, members of the Washington State Guard and the Riverside Fire Authority joined our Centralia Amateur Radio Emergency Service team on a joint disaster exercise.  Since January, the Centralia ARES team has worked on several disaster scenarios based around the 2014 Lac-Magantic, Canada railroad oil train derailment and explosion where two locomotives and 72 oil cars devastated much of the small Canadian community.  Centralia's railroad layout, passing through the downtown area, is eerily similar.  Between January and August, the team trained on setting up disaster shelters, shelter communications, evacuation procedures, escape & evacuation routes, setting up staging areas for fire and medical equipment, and handling medical helicopter landing zones.  Our 2017 SET exercise was designed to cover it all.
What made it even better was having the Washington State Guard emergency communications team work alongside our own group handling communications from the disaster shelter and the helicopter landing zone back to the Emergency Operations Center.  They were embedded in the EOC as well setting up their own comms and working as the disaster link back to the Washington State EOC at Camp Murray.  Adding even more realism, one of the guard hams – a military helicopter pilot – was on hand to play the part of the approaching medical chopper pilot.
To top it all off, Riverside Fire Chief Mike Kytta and five of his fire professionals worked alongside us throughout the exercise adding their technical expertise to equipment staging and evacuation planning.  Their knowledge of how a large oil fire would be attacked really made the exercise seem like the real thing.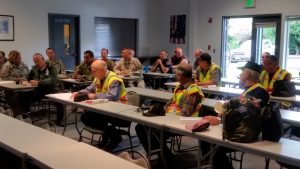 Our thanks to the great folks from the Washington State Guard and Riverside Fire Authority for making this Simulated Emergency Test a success.