When the Centralia ARES team received our second communications van we knew it would be quite a project but we had completed an exact copy only a year or two earlier and knew we were up to the job.  Any project funded with donations and volunteer help needs people willing to go that extra mile to make their community a safer place to live.
Our help from Line-X Total Truck Center began with team member Paul Barwick, KE7PCB, working diligently day after day to polish the van and bring back some of its original luster.
It next moved to a conversation between Paul and his neighbor, Dan Beebe who used to work at Line-X and is now retired.  Dan and Paul decided the van bumpers needed some extra attention and suggested a Line-X coating.  Dan arranged with Manager Ro Cornelio to have the work done at no cost as a donation to our project.  The great mechanics at the Centralia City Street Department gave their time to remove the bumpers and sandblast them in preparation for the Line-X coating work.  Within a week or so, the job was done and it really looks amazing.
Our thanks to Manager Ro Cornelio and his team from Line-X Total Truck Center in Chehalis for making the front and rear bumpers on our new Communication Van, Comm III, look absolutely fantastic.  The whole crew were great to work with and we are very happy with the amazing results.  Thanks again for all your help.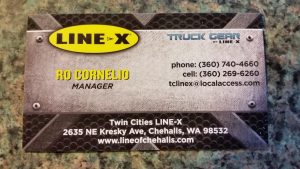 No project like our communications van comes together without the help and generosity of many people.  Within a week, the bumpers will be reinstalled by Matt and Terry at the Centralia City Shop and we'll be moving on to flooring and walls.
Thanks to everyone who has been willing to lend a hand to make this project work.