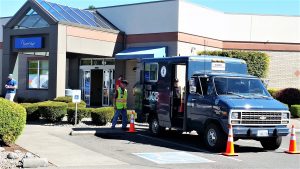 Our newest communications van, now designated "Comm III", needs plenty of supplies before it will be available to serve our first responders and our community.  Everything from wood and paint for the floors and walls to electrical supplies and radios must be purchased and installed.  It will be a big job taking around 1,000 volunteer hours to complete.  The ARES team priced out all the supplies that went into our current communications van and found it totaled $6,350.00.  While some of these supplies will undoubtedly be provided by some of our team members,  most will need to be purchased.
Centralia ARES does not receive funding from its served agencies.  We, therefore, depend heavily on donations from as many sources as we can locate.  Being a 501(c)3 group helps but contacting and asking for donations from many, many businesses and organizations takes a lot of time and effort.
Nevertheless, our communications vans would not be possible without these generous donations. Today, the team displayed our current communications van at Twin County Credit Union in Centralia.  We met and talked with Branch Manager Jon Brein and spent a little over an hour letting bank customers view and walk through the van.  Jon will be working to set up some advertising  and another display date allowing the team another opportunity to meet the public and explain what we do and why we are needed in the community.
The generosity and support from the community and the region has been and will continue to be vitally important in support of our mission.  To all who donate to our cause, we say "Thank You!"