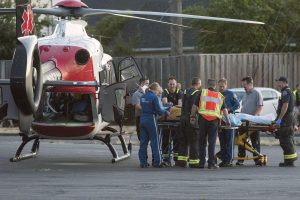 Think our ARES training exercises involving helicopter landing zone procedures aren't important?  Think again.  July 27th at 8:27 in the evening, an elderly woman crossing Main Street in the crosswalk in downtown Centralia was struck by a motor vehicle.
Responding aid personnel made the decision to airlift her out and called for Airlift Northwest.  We have practiced finding a suitable LZ close to where the patient is located and this is exactly what Riverside Fire called for.  Streets were blocked off and Airlift set down in the old Campbell's Chevrolet parking lot across from the Library.  That is one tight LZ with plenty of light poles, flag poles, wires and trees.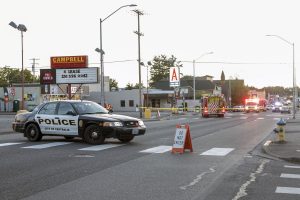 The airlift pilot did a wonderful job bringing his helicopter into that landing zone.  Next time you drive past this location take a close look at the site where Airlift put down and in your mind, work out the pilot briefing this site would require.