Independence Day In Centralia can be a long day for the ARES volunteers. but it is always a fun  holiday.  A few team members begin early readying the CPD and ARES vehicles that will be on display in Fort Borst Park for the morning's Summerfest activities.  They generally clean and prep these vehicles before delivering them to the park around 9:30 am.  Working these large vehicles through the narrow roads within the park and under the huge trees can be "interesting" work.  With everything in place, it is time to open the doors to kids and adults alike who just want to see – as one little boy put it – " all the cool junk inside".  Passing out badge stickers, pencils, CPD sunglasses and just making sure no one plays with a few "essential" buttons is a full time job but our volunteers are good at it.  By 10 am, the park is a mass of kids, adult and dogs all having a great time listening to music, exploring the military vehicles on display and working their way through a free pancake breakfast and hot dogs lunch.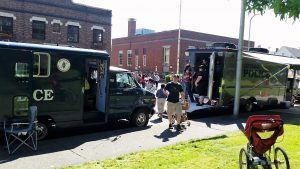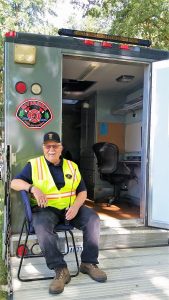 By early afternoon, it's time to break everything down and move equipment downtown where ARES volunteers will set up a police department and amateur radio command post during the parade.  Working the start line for the parade can be very noisy but it provides the best view as well.  Exactly at 4 pm, the police car sirens go off and the parade is underway.  The parade always includes some very large trucks which must maneuver through several tight 90 degree corners.  Very capable ARES volunteers keep the kids, who swarm for candy, from being squished and at the same time help the trucks through the tight intersections.  By 5:30 pm it is all over but the clean up. Time to pack everything up and return equipment to their various facilities.
Independence Day can and usually does start out overcast and around 65 degrees for the activities in the park but when the sun comes out for the parade, it can get very warm very quickly on the downtown streets, usually reaching the upper 80's – which in the Pacific Northwest can be a near death experience!  Once again, our volunteers noticed a much larger crowd for the parade than previous years.  Thankfully, with the great work by ARES hams as well as the CPD officers, everything went smoothly and there were no injuries.
Thanks to all the ARES volunteers who donned their bright yellow vests, stuffed their HT's into the radio pocket and stepped up to make this much loved community event safe and enjoyable.  You really do a GREAT job.