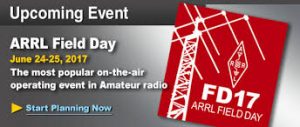 Field Day weekend will be June 24-25 and planning for the event is almost complete.  This event is designed to put as many amateur radio operators on the air as possible from field locations over a 24 hour period.  As Amateur Radio Emergency Services team members, we use the event to prove that our slogan – When All Else Fails…. Amateur Radio Works – can really be done.
Throwing temporary antennas up in the trees and hooking up radios in vans, shelters and tents, we make sure it can all come together when needed for that disaster somewhere on the horizon.
It is not all work, however.  We enjoy a great breakfast on Saturday and a potluck dinner under the trees in the park later in the day and yet another breakfast on Sunday morning.  Scrumptious  cinnamon  rolls, homemade by Evelyn make this an event worth attending all by themselves.  There will be a hidden transmitter hunt with prizes and plenty of radios to try.  We hope you will attend and be a part of this year's fun activities.  The schedule is as follows:
Friday, June 23rd:  5:30 pm  –  placement of all vans, antenna set up and general readiness for Saturday.
Saturday, June 24th:  Breakfast (8 am), complete any remaining setup, on the air at 11 am.  Potluck dinner (hotdogs and hamburgers provided) at 4 pm.
Sunday, June 25th:  Breakfast (8 am), event ends at 11 am, equipment take down afterwards.